Unless you are a bit of a techy geek like me you may not have come across this term, it is commonly used in that environment to describe people who are constantly been drawn to the latest new apps. Rather than settling on some apps and being productive with them, they spend all their time setting up productivity systems then just when they are pretty much good to go, something else catches their eye. This often means the work that is planned in the systems gets moved around rather than being done!
I confess this is one of my big failings. In all fairness, I sometimes try out the new app then go back to a previous one. One of my blogs is about apps, productivity and blogging though, so it is useful to be in the know…
How Shiny Thing Syndrome got me this week
First of all, Michael came across a new (to us) website for digital graphics called Creative Fabrica and suggested I check it out. It is fair to say I love it and we have signed up to use it. There is imagery for my blogs, social media and also my card making. It is an endless resource.
Therefore I have spent hours surfing through the website - the sensible thing to do would be to wait until I needed something - but no I just dived right in for a long purposeless trawl.
The Silver Lining: A Header
The upside was that I found some beautiful iridescent butterflies and other elements which inspired me to create a new banner for my main blog. I hope you like what I have come up with.
of course, now I have created this header which I love. It was time to create a colour scheme to work with it. This is what I resulted in:
The new Colour scheme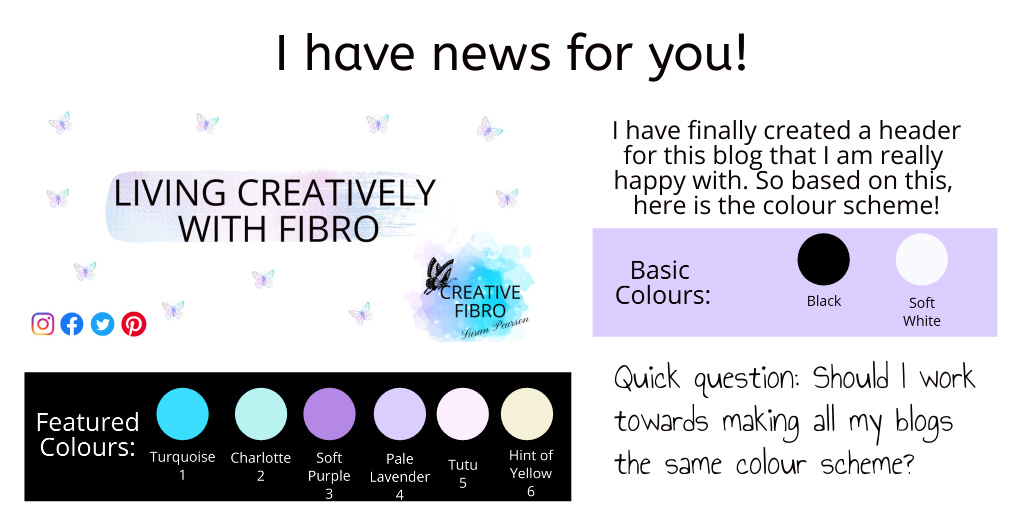 So as you can see in this image which I Tweeted, I have a quick question. Should I keep the other two (Creative Fibro Digital Guru) and (Creative Fibro) in their current colours. Or in the long run, would it unify it all better if I work towards this one colour scheme for all of them?
I am really interested in your thoughts. I'd love to know, do you suffer from shiny thing syndrome too? If so is it apps, gadgets, craft items or make-up it can pop up in many forms!
Have a great weekend (if you are able to) and I will be back with a newsletter on Monday.